RESOURCES OVERVIEW 
The State Ethics Commission provides education and compliance resources to New Mexico's public officials, employees, and members of the public. 
Key resources on this page include:
1) The Commission's model code of ethics, promulgated at 1.8.4 NMAC, which provides a blueprint for agencies and public officials as they adopt or amend their own codes of conduct. The Commission's model code is a comprehensive compilation of ethical standards for government officials in New Mexico and includes commentary and examples for how the rules apply in context.
2) Training materials from the Commission's past trainings on government ethics. 
3) A list of past trainings offered (which agencies and government entities may request) as well as upcoming trainings.
MODEL CODE OF ETHICS 
In 2020, the State Ethics Commission approved a model code of ethics, promulgated at 1.8.4 NMAC.  The code includes an executive summary, the code provisions approved by the State Ethics Commission, and corresponding commentary and examples applying the model code provisions in particular hypothetical circumstances.
TRAINING MATERIALS 
The Commission provides trainings to legislators, government officials and employees, attorneys who practice before the Commission, and interested members of the public. Examples of the materials developed for those trainings are provided below.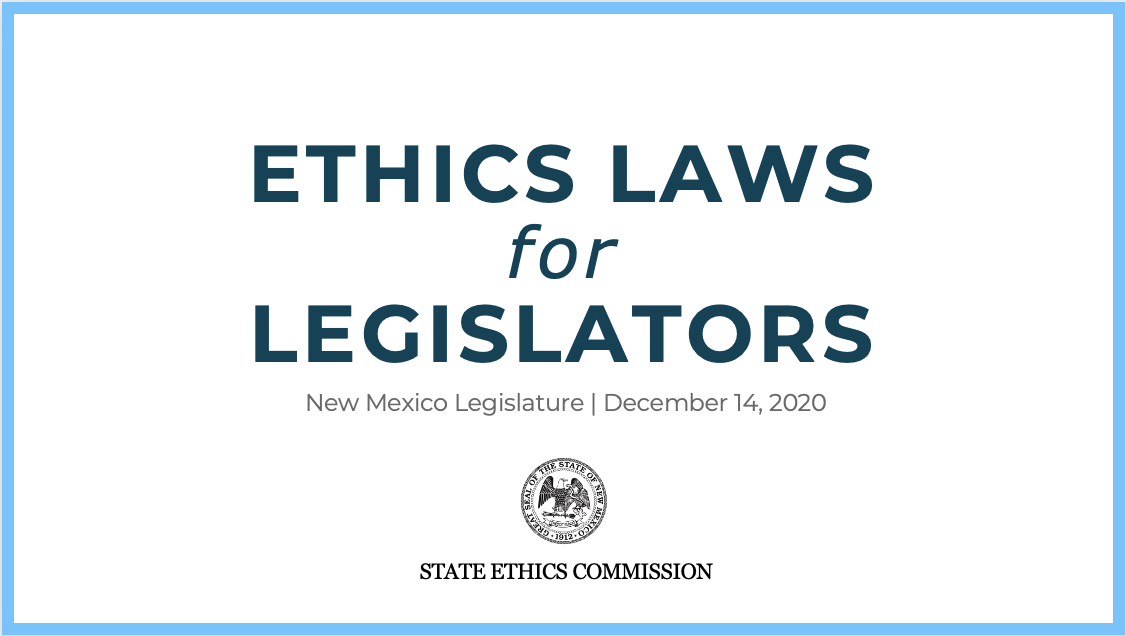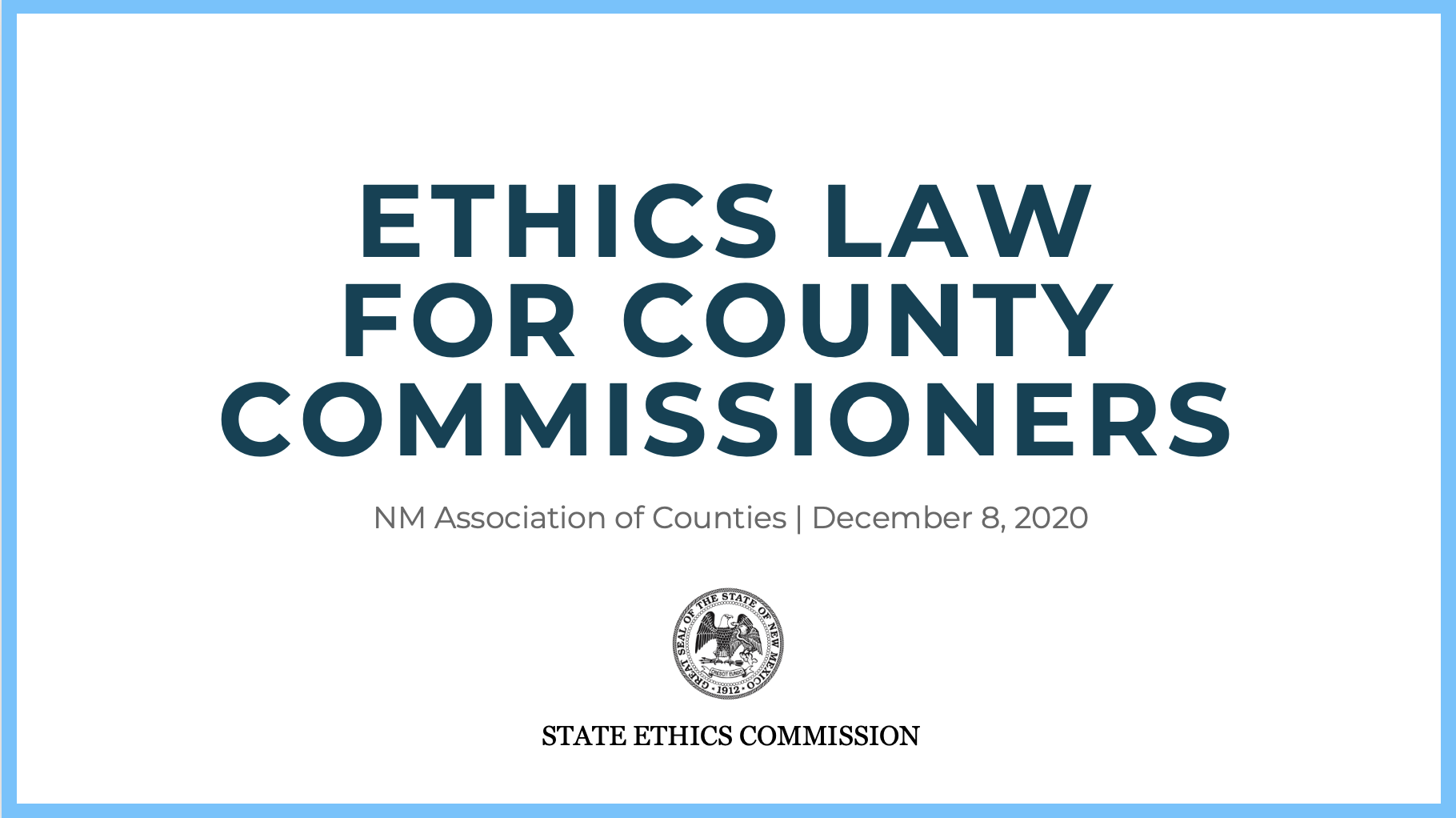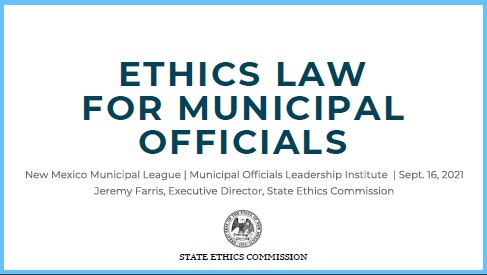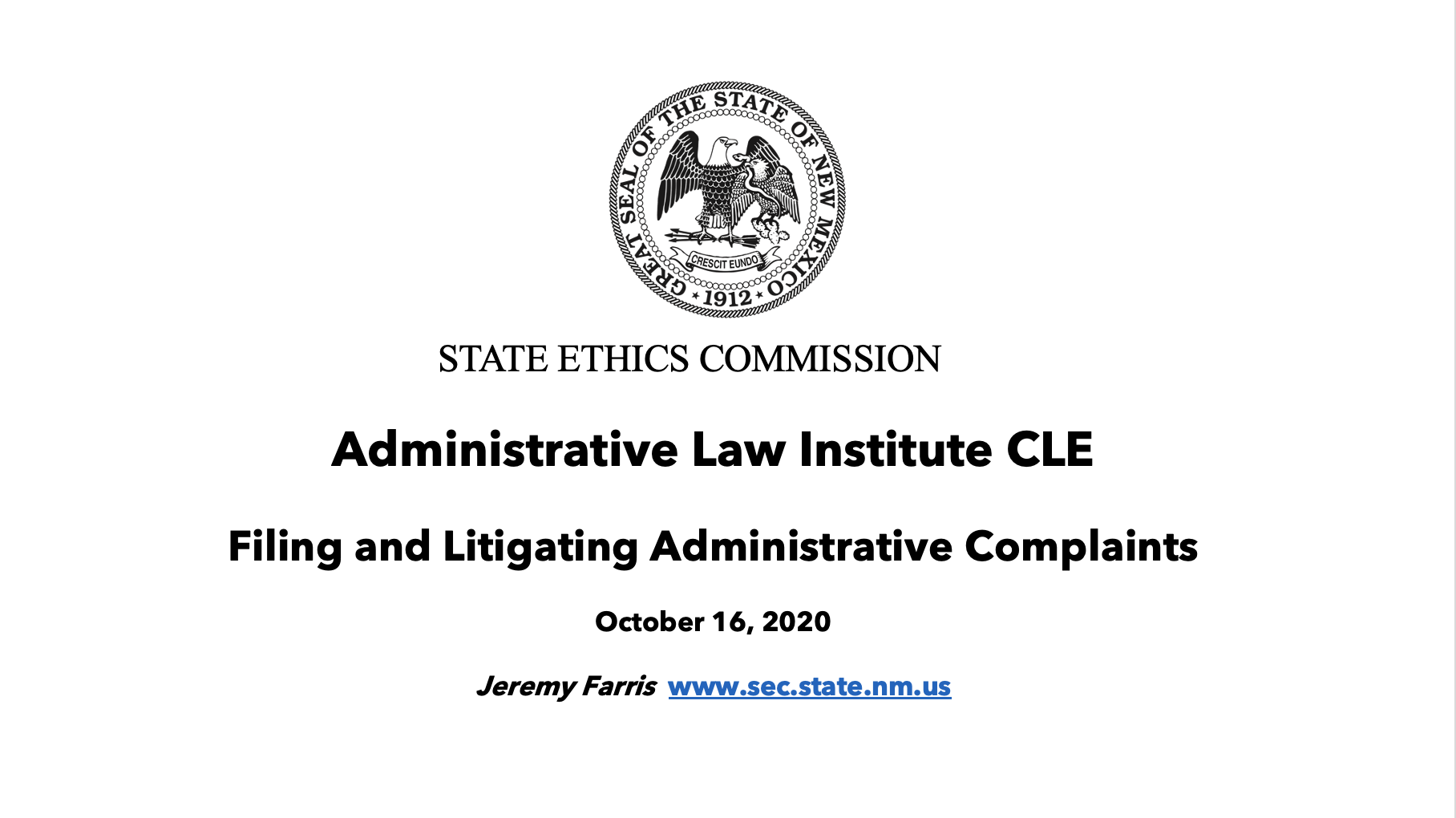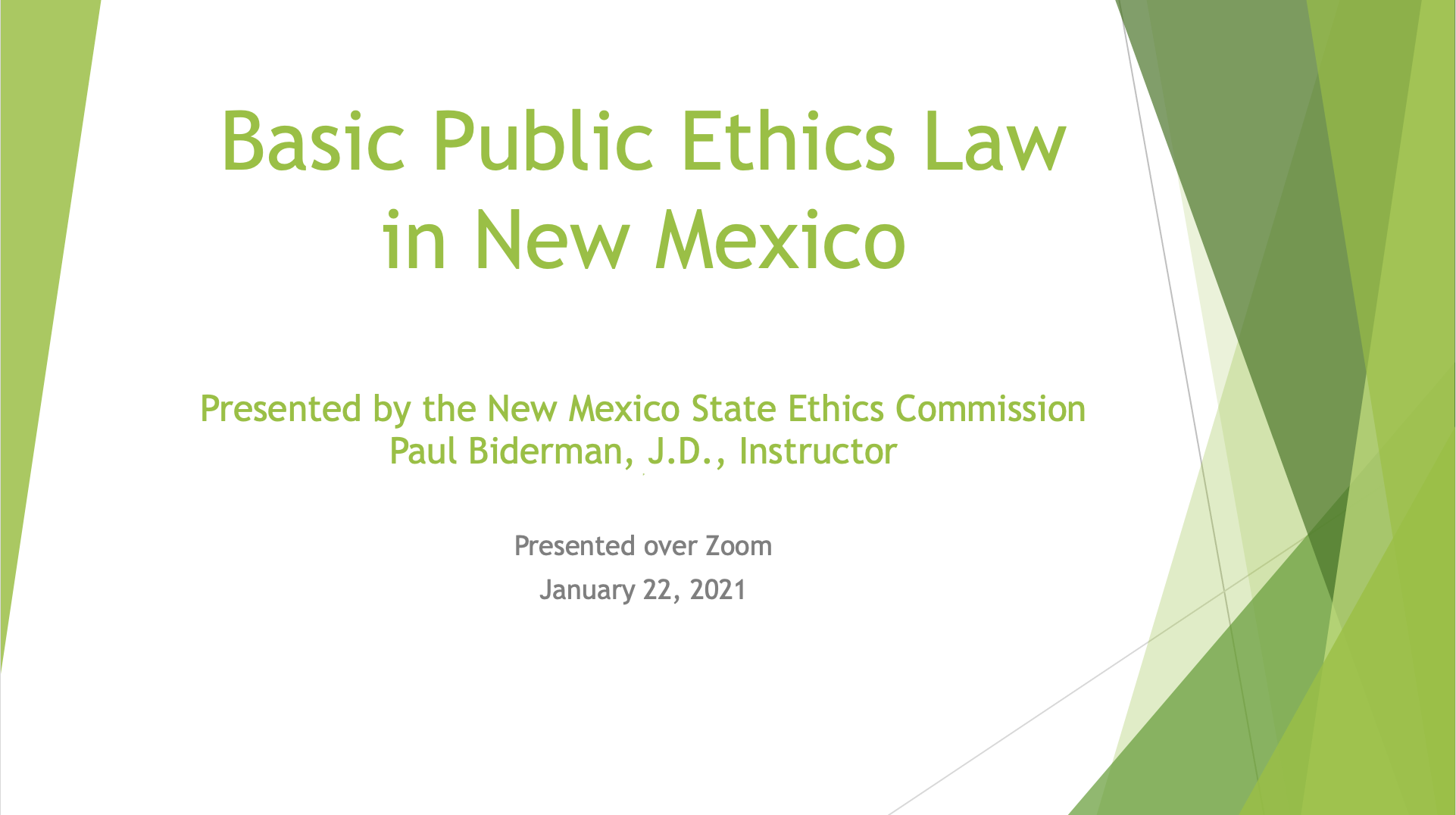 TRAININGS
Upcoming Trainings & CLEs
For information on upcoming trainings and CLEs, or to make a request for a training, contact the Commission's Deputy General Counsel, Rebecca Branch: Rebecca.Branch2@state.nm.us | 505-362-7407
Past Trainings & CLEs
January 22, 2021 – Live webinar via Zoom – Basic Public Ethics Law in New Mexico, presented to Village of Los Ranchos and Village of Corrales (Paul Biderman & Rebecca Branch, Deputy General Counsel)
October 16, 2020 – Live Webinar via Zoom — Public Law Section Administrative Law Institute: State Ethics Commission Rules of Procedure on Administrative Complaints. (Attorney CLE credit) (Director Farris).
September 15, 2020 – 

Live Webinar via Zoom — 

Filing and Litigating Complaints Before the State Ethics Commission. (Attorney CLE credit) (Director Farris and General Counsel Boyd).
June 5, 2020 – 

Live Webinar via Zoom — 

Filing and Litigating Complaints Before the State Ethics Commission. (Attorney CLE credit) (Director Farris and General Counsel Boyd).
November 22, 2019

 

– General Services Department Risk Management Annual CLE —

 

The State Ethics Commission: Structure and Jurisdiction

 

(Attorney CLE credit) (Commissioner Bluestone & Director Farris)

October 27, 2019

 

– New Mexico Department of Finance and Administration 2019 Lunch and Learn Series —

 

The Anti-Donation Clause's Past, Present & Future

 

(Director Farris)

October 24, 2019

 – New Mexico Public Procurement Institute —

 

The State Ethics Commission: Structure and Procurement Code Jurisdiction

 

(Director Farris)

September 30, 2019

 

– NM Capitol Counsel & Consulting Presentation —

 

The State Ethics Commission: Structure and Jurisdiction

 

(Attorney CLE credit) (Commissioner Bluestone)